Discover the best of the Netherlands and Belgium
Offer Expired
Waiting for Cruiseline update
Contact us for current specials

Due to the travel ban, all pricing info on this site is NOT updated. Use them as reference only.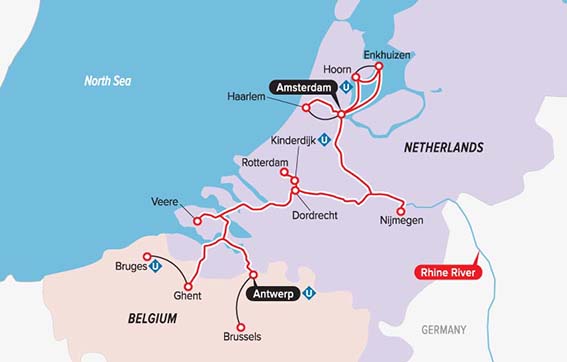 Stroll through colourful acres of tulips at Keukenhof Gardens to get a sense of the Netherlands' extraordinary connection to these blooms. Then visit the 19 UNESCO-designated windmills of Kinderdijk to better understand how these mighty structures have been used to protect the Low Country from ever-rising water levels for hundreds of years. Wander through the picture-perfect villages of Veere, Hoorn and Enkhuizen, and the enchanting outdoor Zuiderzee museum.
Uncover the rich treasures at Amsterdam's Van Gogh Museum, which houses the world's largest collection of the post-impressionist master's paintings, and take in the dazzling skyline of Rotterdam while cruising through the bustling harbor. Drift along the canals of Bruges, or discover Belgium's thriving flower culture as Ghent's famous flower show takes to the streets for the first time ever, and then "Do as the Locals Do" in vibrant Antwerp. All along the way, savor Dutch delights and Belgian treats while sailing the aquatic highways and byways of two amazing countries shaped by water.  
Important Terms
* Rates quoted are in Australian dollars.
* All prices quoted are PER PERSON in Australian Dollars and include taxes, fees and port expenses (if applicable).

* All prices quoted are for the cruise departing on . Prices for alternative departure dates may vary.
Prices shown are fully inclusive of taxes unless otherwise stated.
Advertised price includes any bonus nights, special offers or discounts listed in the inclusions.
Surcharges may apply due to demand, Christmas & New Year's Eve, school or public holidays, trade shows, special events & other unforeseen circumstances.
Prices may be based on Dynamic Rates and as such, may fluctuate at anytime without notice, due to matters outside our control, such as adverse currency fluctuations, fuel surcharges, taxes and airfare increases, or at the property's discretion.
Itinerary
Day 1 – Brussels Airport, transfer to Antwerp (embark)
Arrive at Brussels Airport, where you will be transferred to the ship in Antwerp.
Day 2 – Antwerp
FEATURED EXCURSIONS: Choice of Antwerp walking discovery tour with Cathedral of Our Lady OR exclusive "Do as the Locals Do" Antwerp walking tour
Take a tour of Antwerp's architectural highlights, including the Cathedral of Our Lady and its masterpieces by Rubens. Or experience the city as the locals do, with a metro ride, a stroll through the main shopping district, and samples of iconic Belgian foods. In the evening, enjoy a Captain's Welcome Reception and Gala Dinner.
Day 3 – Ghent (Bruges or Ghent)
FEATURED EXCURSIONS: Choice of full-day Bruges with canal cruise and walking discovery tour OR Ghent walking discovery tour with Ghent Floralies flower show
Enjoy a tour of well-preserved Bruges, a UNESCO World Heritage Site filled with historic architecture. Or explore Ghent, one of the oldest cities in Belgium, with a guided tour featuring the medieval center and the famous Ghent Altarpiece. During the Ghent Floralies this spring, the streets will be lined with lavish flower displays.
Day 4 – Veere
FEATURED EXCURSIONS: Delta Works museum and guided stroll into artists' village of Veere
The Delta Works Museum presents a wonderful overview of Dutch windmills and other engineering marvels used in the Netherlands' long battle to hold back the sea. You'll also have time to explore Veere, with its cozy harbor and 16th-century merchant houses. Relax onboard as the ship cruises through the picturesque Zeeland area.
Day 5 – Rotterdam, Kinderdijk
FEATURED EXCURSION: Kinderdijk windmills
Cruise through the Rotterdam harbor, the world's third-largest port, and explore the city on your own. Continue onward to Kinderdijk, an area with 19 well-preserved, UNESCO-designated windmills dating back to the 1500s. If you wish, you will have a chance to climb inside one of these historic and iconic structures.
Note: If docking in Kinderdijk is not possible, the excursion will be arranged by motorcoach from Rotterdam.
Day 6 – Nijmegen (Groesbeek or Nuenen)
FEATURED EXCURSIONS: Choice of National Liberation Museum OR Kröller-Müller Museum visit
From Nijmegen, the oldest city in the Netherlands, join an excursion to the nearby National Liberation Museum for an eye-opening perspective on WWII. Or you can opt to see a fine collection of paintings by Van Gogh and other works by 19th- and 20th-century artists.
Day 7 – Hoorn (Enkhuizen)
FEATURED EXCURSIONS: Hoorn walking discovery tour and "Life on the Zuiderzee" outdoor museum visit
Discover Hoorn's seafaring past as you tour the city on foot. At your next port of call, stroll through the fascinating Zuiderzee outdoor museum, a reconstructed village showcasing 19th-century Dutch life and culture. For more active sightseeing, bike around City Ring—an earthen dike—aboard one of the ship's complimentary bicycles.
Day 8 – Amsterdam (Haarlem)
FEATURED EXCURSIONS: Choice of full day at Keukenhof Gardens OR Keukenhof Gardens combined with Haarlem walking discovery tour with Teylers Museum visit
Spend the day at Keukenhof Gardens, an extraordinary site boasting seven million flowers. Or enjoy a half day at the gardens and either relax onboard after lunch or visit Haarlem's historic center and the oldest museum in the Netherlands, with free time to explore on your own.
Note: Lunch is not included with the full day at Keukenhof Gardens.
Day 9 – Amsterdam
FEATURED EXCURSIONS: Choice of Amsterdam by canal with either Van Gogh Museum OR Rijksmuseum visit OR exclusive "Do as the Locals Do" Amsterdam walking tour
See Amsterdam from the unique perspective of a canal cruise, followed by a tour of one of two acclaimed museums. Or, opt to take a guided stroll through Amsterdam's canal district to a restored 17th-century canal house. In the evening, enjoy a Captain's Welcome Reception and Gala Dinner.
Day 10 – Amsterdam (disemark)
Disembark the ship and transfer to Amsterdam Schiphol Airport for your return flight home.